The Ohio Lake Communities Association is an organization of mostly Ohio private lake communities. They have banded together since 1969 to share the common concerns of roads, utilities, property & lake management, recreation, security, legal issues and of course the proper funding for these activities.
Spring & Fall semi annual meetings are held at the various lakes for social and educational exchanges of ideas. The OLCA has filed Amicus briefs on legal cases of interest to the member lakes, developed an employment manual for the lakes, formed a discount worker's compensation program and developed a dispute arbitration program.
Our private lakes are in a unique position. We certainly enhance the quality of life in our respective counties by land and water management, roads maintenance, utility improvements and of course property values, but in most cases we do it on our own without any local tax dollars.
The OLCA currently represents some 25,700 families holding title to over 39,000 lots in our twenty two active member lakes. Other private lakes are always invited to join with us in these endeavors.
(To view a lake community's website, please click on the lake in the map)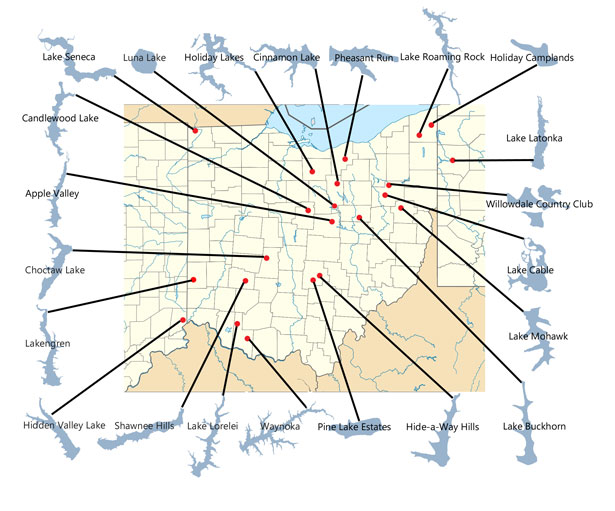 ---
OLCA Galleries